Off-Site Full Service Catering
Who we are
Fat Olives mobile wood fired catering specializes in Artisan and Neapolitan style pizza. Constructed in Italy by the Valoriani family, our oven is over 3900 pounds of Italian fire power. With over 25 years of catering experience let us, turn your next event into a true Italian feast.
What we do
Fat Olives will provide your guests an unlimited supply of salads and hand crafted pizzas continually cooked and presented on the buffet that surrounds our oven. We will serve for approximately two hours, unless previous arrangements have been made.
Your cater comes with complementary disposable plates, napkins and silverware.
How we do it
We arrive at your event 2 hours before the scheduled start time and set up our oven and buffet. The oven requires 1 1/2 hours to get to the desired 900 cooking temperature. Our pizzas will cook in 90 seconds.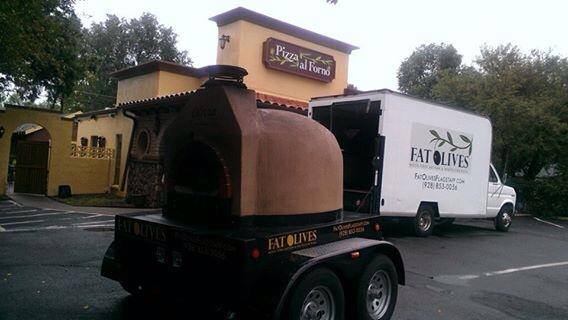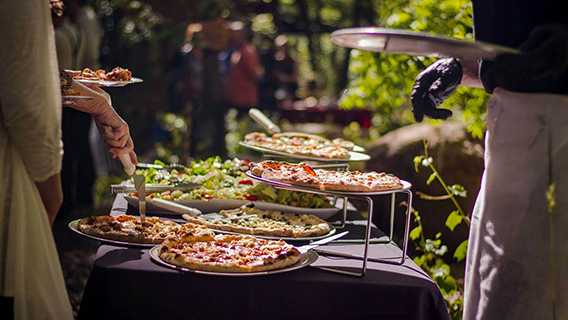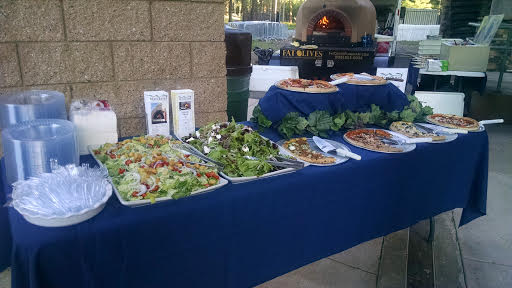 Larger groups
For larger groups we have two mobile ovens to cook in tandem to meet your needs.
Pricing & Add-ons
Please view our Catering menu for all pricing and event add-ons.
Book your event
Call us or click below to book your event!
Private Dining
Private Chef's Room & Patio
Our private Chef's Room and outdoor patio is perfect for large groups and special events! We offer a range of special packages with set menus when you reserve our private room and/or patio. Call or click below for more information and to reserve your private dining experience.